Our Service Experts
We are proud to introduce to you our team of service experts who will work hard to make your stay with us unforgettable:

Vinz
Assistant Manager
2141-829

Dian
Frontdesk Supervisor
2142-935

Shiela
Dining Supervisor
2141-829

Robert
Executive Chef
2141-829

Raymond
Assistant Supervisor
2142-166

Mark
Head Waiter
2141-829
We would love to hear from you...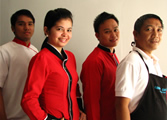 At the cornerstone of our continuous excellence in service is your invaluable feedback, comments, and suggestions. We truly appreciate your honest, fair, and accurate remarks as it will help us achieve a higher level of service on your next visit.

If you submit a Testimonial, we will consider publishing it in our Testimonials corner. If you do not wish it published, please choose Comment as the Feedback Type instead.

If you are looking for a job, click here. Thanks!
Leave us a note
Frequently Asked Questions (FAQ)
How do I go to Pagadian and Hotel Camila?

Please read our Travel Guide for details.


Do you accept Credit Cards?

Yes, we accept all major credit cards (Visa, Mastercard, JCB).


Can our company/office/agency establish a credit line with your hotel?

Yes, we do. Please leave us a note so we may get in touch with you for the requirements.


Do you have preferential rates for travel agencies/travel bureaus?

Yes, we have. Please call us (look for Leah) for the requirements and procedures.


How much are your Wedding/Function packages?

Our packages vary widely according to the customer's preferences (food, venue, arrangements, etc.) so it's best to contact us for a quotation. Very basic function package starts at P200+ per person.