Our Top People
Twice a year, we hold a peer evaluation wherein each employee rates his/her colleagues. The Top 10 employees are duly recognized.

Vinz
Assistant Manager
2141-829

Ayan
Human Resource
2142-935

Dian
Frontdesk Supervisor
2142-935

Shiela
Dining Supervisor
2141-829

Robert
Executive Chef
2141-829

Raymond
Assistant Supervisor
2142-166

Mark
Head Waiter
2141-829
Pre-Apply Here
Wanted: A few good men and women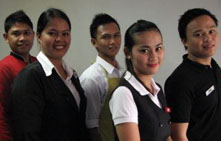 Hi, I'm Ayan Villegas and I am the Human Resource Officer (HRO) of Hotel Camila, Suburst Restaurant, Jepoy's Grill and Orpadi Lending Shop, Inc. We are always looking for promising applicants who can contribute to the company as well as grow professionally and personally.

As a company, we treat each other like family but we operate very professionally. We are mostly composed of young and middle-age people (20s-40s), all looking to make a difference in the company and in society. We are also quite spiritually and morally grounded.

If you think you have what it takes to be a success story in our company, join us! I look forward to meeting you very soon.
Minimum Requirements
For waiters, cashiers, front office, kitchen staff, cook, driver, electrician, plumber

1. Age: 20 to 29 years

2. Qualification: TESDA NCII (must be related to the position being applied)

3. Experience: OJT or at least 5-month employment contract



For office clerk

1. Age: 20 to 29 years

2. Qualification: Graduate of any 2 year course

3. Experience: At least 1 year

4. Must be computer literate



For Supervisors

1. Age: 26 to 38 years

2. Qualification: Graduate of any 4 year course

3. Experience: At least 4 years

4. Must be computer literate



What to Submit
Cover letter

1. Must be properly addressed to Ayan Villegas, Human Resources Officer

2. Must mention the desired position




Resume

1. Maximum of 1 page only

2. Must contain full name, updated contact information, photo

3. Please include work-related experience, academic background, references




Proof of Qualification, for example:

1. TESDA NCII (clear photocopy) - bring original for interview

2. Official Transcript of Records




Proof of (most-recent) work-related experience, for example:

1. Certificate of Employment

2. OJT Certification




Letter of Recommendation

1. Letter must explicitly vouch for the applicant's character, values and work ethic

2. Issued by any of the following: former professor/teacher, government official, priest/pastor, community leader, etc.

3. Must NOT be issued by a family member or relative.




Frequently Asked Questions (FAQ)
What positions are open for hiring?

Waiters, cashiers, front office, checkers, utility/maintenance, and other staff are always coming and going.


When is the best time to apply?

We accept applications all year round but our turnover season is in June and December, so best to apply in May and November.


How do I apply?

Make sure you meet the Minimum Requirements (see right side).

Prepare all the required documents (see What to Submit) and submit them to (Mon-Sat 8:30am-5:30pm):

Ayan Villegas
Human Resource Officer
Hotel Camila
Ariosa St.
Pagadian City

Under qualified applicants and incomplete application will not be proceesed.

You will be asked to take a Pre-Employment Test (PET). If found suitable, you will be scheduled for an interview.


What are you looking for?

We do not discriminate against a particular gender, race, or religion but you must meet the MINIMUM REQUIREMENTS. We look more at the applicant's integrity, maturity and innate ability. Anybody with a sharp mind and an honest heart will definitely be given a chance.


How can I improve my chances of being hired?

Aside from the PET, the interview with the General Manager counts the most. You must demonstrate that you are sincere, can follow instructions, can work with other people, and embody the values of the company. PLEASE DRESS APPROPRIATELY like the professional you aspire to be.


How much is the starting salary?

As per company policy, our remuneration package is strictly confidential. Suffice it to say that our employees have been able to make ends meet from the fruits of their labor. We also emphasize fiscal responsibility among our people.


What can I expect as an employee of your company?

Work will not be easy but will be fulfilling. Management is always very keen on developing talent. Young employees have been given early breaks in their career as junior supervisors. MBA scholarships have been given to a chosen few who have enormous potential.