Sleep with us, dream with us!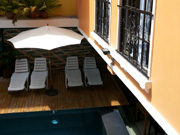 Best Rooms

If you want the best that Hotel Camila Pagadian can offer, try our Pool View Rooms! They have a flat screen TV, in-room safe, mini refrigerator, WIFI, and a picture window bathroom.
Standard Rooms

If you are traveling with a group or family or wanting a bigger room without the hefty price, we are delighted to offer you our classic Business, Triple, and Suite Rooms! Now, you and your family can be together in one room!
More Standard Rooms

If you are a traveler passing through Pagadian, staying for a night or two, or simply on the go, we just have the right rooms for you! Our Single, Double, and Twin rooms are designed for guests who want a good night's sleep without the unnecessary frills.